2011-06-17
Rocking the Rambler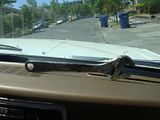 Remember the dash of my buddy's 1966 Rambler from http://www.jezra.net/blog/The_Wrench? Well, that dash has a stock AM radio that looks really nice. Unfortunately, there aren't very many AM radio stations in the area that play music worthy of listening to in a 1966 Rambler. So, for my buddy's birthday, I decided to make an AM transmitter that would deliver music of his choosing to his radio in sweet sweet monophonic sound.
Schematic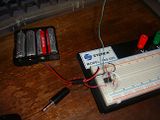 A quick internet search for "simple AM transmitter" let me to http://justtechnika.com/articles/circuit-diagram-simple-digital-am-transmitter/, which seemed to be exactly what I needed. About $5 later, the components needed to make three of these things were on their way to my home from digikey
After a few minutes of figuring out where things needed to go, I had a working prototype on a development board. I accidentally left out the 1000 micro farad / 25 volt capacitor. Oh well, it still works.
Test the prototype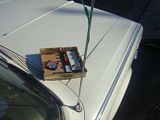 The first test of the prototype took place with my alarm clock AM radio and I really needed to test this on the real thing.
Hey Buddy, bring your car over here!
The transmitter worked like a charm as long as the transmitter antenna was touching the radio antenna. (this is a good thing)
The real deal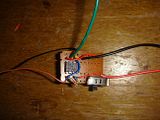 A month or so after I started this project, I had a finished circuit ready to deliver to my buddy and a small burn on my finger. Damn soldering iron. The finished product is about 5x3 centimeters in size and a power switch has been added.
Hopefully the circuit doesn't sit around his apartment gathering dust.
hint hint
Hey Buddy! We should hella install that transmitter this weekend