2010-09-19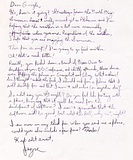 A few months ago, I wrote a letter to Google asking them to send me an Android based smart phone. Unfortunately, Google never responded to my letter.
The content of the letter, for those that can't read the chicken-scratch that I call "handwriting" is as follows:
Dear Google,
Hi, how's it going? Greetings from the North Bay. Summer hasn't really arrived yet in Petaluma and I'm hoping that the weather is a bit more seasonally appropriate where you are. Regardless of the weather, I hope that you are enjoying the Summer.
This pen is crap! I'm going to go find another. Oh! that's much better!
Recently, you kicked down a bunch of Nexus Ones to developers at your I/O Conference, and shortly afterwords, thos devs were flipping the phones on Craigslist and Ebay. What a shame! So I thought "what the fuck, I should ask for a phone that I will develop for and that I won't sell online (or anywhere else)".
So what Say you Google? Do you feel like parting with a phone, knowing that it will be used for the development of software? I can't guarantee that the software will be good, but what the hell, why not, right?
I am now on my third pen. When you send me a phone, could you also include a few pens? Thanks!
Keep shit sweet,
Jezra
The real question here, is why didn't Google send me a phone (and a few pens)? After quite a bit of thought I have come up with a few possible answers.
I mistakenly mentioned the Nexus One phone when I should have been referring to the Motorola Droid
The first time I wrote the word "Google", I wrote it with a capital print 'g' and not a capital cursive 'g'
Google is so inundated with requests for phones that they haven't had time to send me one yet.
The letter was sent via the USPS and probably didn't arrive yet.
Based on the few seconds that I spent thinking about this, I've come to the conclusion that reason #4 is the most likely explanation.
Now quit reading, and go write a letter. I have a few to write myself.