2010-12-04
On one of the forums I frequent, there was a discussion about using a QR Code as a forum avatar. And I thought "Damn, I should put a qr code that links to my website on a t-shirt".
The Code
First things first, get a QR Code that links to http://www.jezra.net
Simple enough. Now I just need to transfer this to a t-shirt.
The Stencil
The code is a grid of 21 squares by 21 squares. So I grabbed some butcher paper from Petaluma Market and drew a 21x21 grid on the paper. The grid spacing is half an inch per square. I really should have used the metric system.
Why butcher paper? one side of the butcher paper is lightly waxed and after cutting the stencil I will iron the stencil onto a t-shirt. This will give me nice crisp lines.
Is that a Dungeons & Dragons map?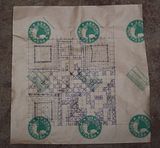 The code is black on white, but since I was putting the code on a black shirt, I needed to mark the negative spaces that would need to be removed.
After a couple of screw ups, I think I have everything mapped out.
Laying It Out
With my trusty left-handed scissors, I cut out all of the pieces and arranged the pieces on the t-shirt in preparation for the iron.
White Fabric Paint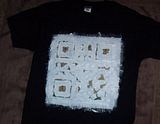 After using an iron to affix the paper to the t-shirt, I began slopping on fabric paint to create the white pattern of the QR Code.
Amazingly, all of the fabric paint went where I wanted it to go. That is to say, I didn't spill any paint or make a mess.
Showing It Off
Let the paint dry
Peel off the butcher paper
Use a hot iron to fix the paint to the fabric
Find a sexy model to show off the shirt
When I told my buddy about this project, he said "just have Kinko's print the image of the code onto transferable paper", to which I replied "no, this way will be more interesting". Yea, well this way was a pain. I probably should have listened to my buddy.
While I'm reminiscing, I might as well add that if I were to do it all over again, I would definitely use a t-shirt that actually fits me. Why the hell was there a plain black medium t-shirt at my place?
Now quit reading, and go listen to your buddy. Oh yea, now I need to find out if it works...