2011-06-20
My N810 died
When I went to the MeeGo conference I discovered that my N810 would no longer boot. The device would simply blink the Nokia logo when I tried to turn it on, and all of my attempts to flash a new image to the device failed. So long buddy. [sadface]
How Am I Supposed to Test Software?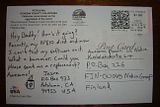 Since I need an Maemo device for testing Heybuddy I wrote a postcard to Nokia and requested a new device. Quite surprisingly, I have not yet received a response.
Really? Didn't they see the awesome picture of a coffee cup that drew on the postcard? Maybe they were just waiting until they announced the N9 before they send one my way. Yeaaaaa, that's the ticket!
Fortunately for me (and for !Heybuddy ), there are some kick ass users and testers out there that help me with Maemo problems. However......
Terrible Timing
On June 16th, there was a bug report for heybuddy regarding a security vulnerability due to the use of Python's urllib2 module for HTTPS communication. A nice fix for the problem was found at stackoverflow, and it utilizes the SSL module. However.....
There is No Python SSL Module on Maemo!
One more time, in case you missed it: There is no Python SSL Module on Maemo! Maemo uses Python 2.5 and the 2.5 release did not include an SSL module. Fortunately, there is an SSL module available for Python 2.5 that can be downloaded from http://pypi.python.org/pypi/ssl. Unfortunately, I can't properly test this SSL module with Heybuddy on a Maemo device because my device is broken. Oh, now we've come full circle.....
If you are using Heybuddy, I highly suggest that you update to the latest version, and if you are on an Maemo device, update to the latest Heybuddy release and install the SSL module.
Now quit reading, update your software, and send someone a postcard.