2010-10-03
Damn that Power button!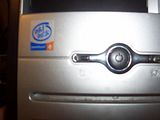 For a few months, the power button on my computer has been sticking. Sometimes, when I power up the machine, the button will stick and the machine will turn off. A bit of smacking the button usually gets the machine to start properly.
Look at that button. I don't like it.
The worst time for the button to stick is when I'm turning the computer off. When the button sticks, the computer powers off and doesn't shutdown properly. This can lead to hard-drive problems that I really don't want.
Fix it!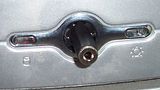 After tracing the power switch leads from the motherboard and a bit of soldering, I had my computer power wired to a 1/8 inch mono jack so that I can plug in whatever kind of switch I want.
A bit of testing and ..... crap, it doesn't work. The internals of the cheap jack don't line up properly with the plug on my switches. What a bummer.
Just get it working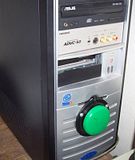 Fortunately I still had a switch left over from an old project that I could just connect directly to the motherboard leads. Throw on a couple of self-tapping screws and the machine is back in business! Booyah!
You can hardly tell that there was any sort of customization at all. /sarcasm
Now quit reading, and solder a big switch onto something.