2010-06-19
During the week, there were a few things that I took pictures of in the hopes of documenting on the web. Unfortunately, they were not quite significant enough for a blog posting. As Friday rolled around I had big dreams of another Friday Frolic, but alas, it was not to be. (Actually some of this is a few weeks old, but I didn't want to not post about it)
Welcome to the Saturday Sassafras! ( Sorry, I couldn't come up with a better name )
Jezra.net
---
Damn those spammers! On Friday morning, I started to receive quite a bit of email spam, in BBCode format, from my contact form. With a bit of the old "copy and paste" I shortly implemented the jezra.net blog captcha for the contact form and booyah!, no more spam.
However, keeping the bots from spamming me is one thing, what I would really like to do is just send them a 404 error code when they get to my site. With this in mind I updated my web framework to log the time and IP addresses of "visitors" that enter nothing in the captcha answer field. My original plan was to check a visitors IP address against the recorded IPs, and if the IP address has 2 or more entries recorded is the last 30 days, they would get a 404; but I think I will just pass a 404 to any visitor that with a user-agent identified as IE6. Why do spam bots love IE6 user agents so much?
Oh yea, I also started using lightbox for displaying screenshot of some projects. Wow, what a segue.
Speaking of projects....
Heybuddy
---
Heybuddy recently had a new release, 0.1.0 Hudson, that added the much needed "filtering" feature that allows one to filter out dents based on tags and groups mentioned in the dent, as well as by the poster of the dent. As someone that doesn't give a rat's ass about soccer, the filter feature is awesome during the #worldcup.
I'd like to thank Fabsh for the inspiration. I'd also like to thank all of the tester and users of heybuddy for finding bugs and most importantly, for reporting the bugs.
speaking of heybuddy...
Operation "Cool it!"
---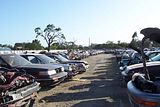 "Hey buddy, I'm going to the Pick-n-Pull to look for a cooling fan controller module for my car" were the words I heard and I quickly offered my help. Who can resist a trip to a pick-n-pull? Besides, had been over-heating for about 2 years and really needed a new module, but they are $400 for a new one. Two hours and $20 later, we had the part in hand. Cool.
speaking of cool cars....
00000
---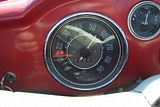 Look at that picture! Ignore that fact that my 40 horsepower Volkswagen can go over 55MPH, and look at the odometer. Gertie had looped her odometer and we celebrated with an oil change and a new alternator.
speaking of cool....
hotsauce
---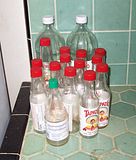 At the half way point of the year, I though it would be a good idea to take a picture of the hot sauce that I've consumed so far this year. That's 134 oz of Tapatío and 6 oz of Crystal. Did I mention that I like Tapatío?
That's about it for now. Expect some code in the future...
Now quit reading and go make things happen!