2011-01-05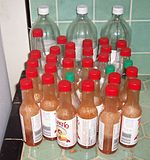 On January 1st 2010, I opened a bottle of tapatío hot sauce. Since it was the new year, I thought it would be an extremely good idea to save all of my hot sauce bottle for a year, just so I could figure out how much hot sauce I actually use.
As of New Year's Day 2011, the collection is as follows:
3 - 32oz Tapatío bottles
1 - 10oz Tapatío bottle
27 - 5oz Tapatío bottles
3 - 6oz Crystal bottles
That's a grand total of 259 ounces of hot sauce; a little over 2 gallons.
Now quit reading, and reheat left-overs by smothering them with hot sauce.
Tags:
2019
2016
2015
2014
2013
2012
2011
2010
2009
2008