2009-10-26
It started as a simple enough question: "what is the best way to clean the contacts on Nintendo Entertainment System cartridges?"

Since the contacts are copper, I figured that the tarnish on the contacts would be copper oxide. A quick interwebs search delivered the result of vinegar with a bit of salt. The vinegar contains acetic acid and the salt, when it is dissolved, will add some free ions and make the acid electrically conductive. All is good and dandy.

Wait... vinegar and salt? Other than chilis, those are the main ingredients of hot sauce! Damn, I love hot sauce.

Now I needed to know, which hot sauce is best for cleaning copper.
Let the experiment begin. The first thing needed is a bunch of copper. I opted for using pennies.

Here are the pennies from just the top of my change jar.


The pennies sorted by decade. The single penny on the left is the 50s. The large pile on the right is the aughts.
The pennies for this experiment are in the middle and they all have about the same amount of tarnish and they are from the same decade. On the left is a 1959 penny and on the right is a 2009 penny.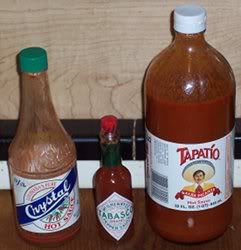 Ah the cleaning agents.
12 ounce Crystal
2 ounce Tabasco
32 ounce Tapatí­o
Normally I wouldn't buy Tabasco because I don't really consider it a "hot" sauce. However, since Tabasco is such a popular sauce, I decided to add it to the test.

Lately, when opening a new bottle of hot sauce, I have been writing the date on the bottle so that I can determine just how much hot sauce I consume. I've been averaging about 1.3 ounces a day.

Three Yuengling bottle caps were used to hold the sauces and then the test pennies were placed in the bottle caps for about 1 minute.


After rinsing the sauces from the pennies, it was time to determine the winner.

The three pennies in the middle are the test pennies.


Originally, I thought the Tabasco sauce would be the winner because it mostly tastes like vinegar and salt. ( At least it does to my palette )

And in fact, I would say that Tabasco outshined the other sauces in this test. Ha! I love a good pun. Anyway, my assessment of why Tabasco worked so well has changed. After noticing that the Tabasco soaked penny was cleaned up in even the more minute nooks and crannies, I feel that the viscosity of the sauce allows it to penetrate into the hard to reach places.

Hot sauce, it isn't just for tacos.
now quit reading, and go perform an experiment.