2010-02-09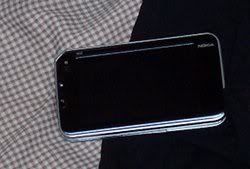 Why Yes; that is the Nokia N810 that I purchased on Ebay. Again, yes; the nokia is resting upon a torn black t-shirt and some ugly old shorts that no longer fit me.

The N810 has a wonderful screen that I fear will get scratched to hell if it stays in my pocket for too long. For portability reasons, I'm going to need a screen protector or, even better, a Nokia Coozie.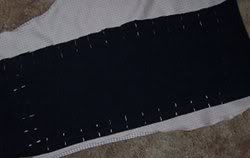 First things first, cut out a large strip of fabric from the t-shirt. Follow this by cutting a large strip of that ghastly fabric from the shorts.

Pin the pieces of fabric together and then sew the fabric together. This will make it easier to handle.

That's a lot of pins. Hopefully the screen will respond to bloodied fingers.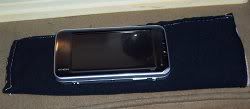 After wrapping the fabric around the N810, it is possible to determine where to sew the fabric in order to make the beginning shape of the coozie. After sewing and cutting off the excess fabric, things are starting to really take shape.

I left plenty of extra fabric on the length-wise measurement so that I would have some slack to make hemming easier.
Putting the N810 in the almost coozie, I marked where I needed to fold and hem the opening, and like Riker does after Picard says "Make it so", I made is sew.
Yes, I made a Star Trek sewing joke. Engage!
After hemming the coozie, half of the extra fabric was removed and the other half was shaped and sewn to make a flap that I could tuck into the coozie after the device.

Originally, I wanted to use velcro to hold the opening shut, but I would have had to either sew the velcro on very early in the process or sew it on by hand, which I am too lazy to do.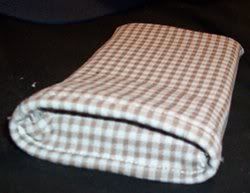 Finally.

Here is the coozie with the N810 inside and the flap tucked in. It may not be pretty but it is pretty damn useful and pretty damn ugly.

Sweet, I've got Linux in my pocket.
Now quit reading, and go make something ugly and useful.