2011-02-15
The Problem
Let me start by saying that I hate little earbud headphones. Sure they may send music to my ears but they do absolutely nothing to block ambient noise and I am forced to increase my volume to ear damaging levels in order to hear my audio above all of the crappy-ass racket I'm forced to endure on a daily basis. Having tried very expensive "active noise canceling" headphones that didn't work, I decided to make a cheap pair of passive noise canceling headphones that actually work as expected.
The Pieces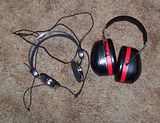 My new headphones would be made out of some cheap headphones that I bought for $6 at Ross and a pair of $20 Peltor Optime 105 earmuffs from Amazon which reduce ambient sound by 29dB. (That's about the difference between a telephone dial tone and a power saw )
Take Stuff Apart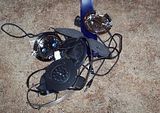 There is a certain amount of enjoyment I get from being able to take something apart. A few screws and a bit of snapped plastic later, I had a nice pile of crap to work with. Unfortunately, I managed to sever the cable leading to one of the speakers.
Put Stuff Together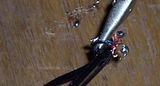 One of the first times I used a soldering iron, I wasn't paying attention and I picked the iron up like a pencil and burned my fingers.
Nothing bad happened this time, unless you consider this crappy solder job to be bad. Hey, it works, so it is all good in my books. Besides, I simply covered the solder with some Gorilla tape and everything was pretty... pretty awesome!
Break Some More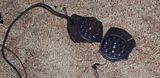 Fortunately the remaining speaker pieces were too large to shove into the earmuffs so I started breaking off the plastic until the speakers were small enough to fit.
Throw Those Babies On!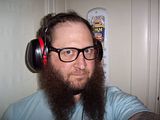 Ohhhhh yeaaaaaaa! Looking sharp and working like a charm. After plugging the headphones into my portable music player, I sat in front of my home stereo speaker and I was extremely happy with the results. Seriously, these "under $30" homemade headphones cancel noise better than the $80 pair of active noise reducers that I had tried. D.I.Y. for the win!
Now quit reading, and go be quiet.