2010-08-20
The Logic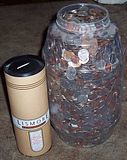 For some reason, I thought it would be a nice idea to donate all of my nickels to the wonderful fighters for digital freedom at the Electronic Frontier Foundation, a non-profit organization that promotes Free Speech, Privacy, and Fair Use in this digital age.
My 3 gallon coin jar was full, and my custom change holder thing, although not full, was certainly heavy, so I figured the EFF would get 20 or so bucks, and I'd get a bit of a workout by hauling that cold hard heavy cash around.
The Pile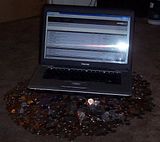 The first thing I needed to do was to dump all of the coins on the floor in a big pile.
Speaking of big piles... Well surprise surprise, there is my Toshiba for a size comparison.
Time to start sorting those coins....
A Few Nights of "sorting while watching episodes of Star Trek" Later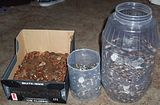 Hey look at that! A box of pennies, a plastic bin of nickels and my three gallon jar with quarters, dimes, 50¢, and dollar coins.
While sorting, I did remove some of the coins because they either didn't belong, or they needed to be added to my "semi-unique" coin collection.
The removed coins:
6 pre 1964 Nickels: for some reason I think they have a high amount of silver and will be worth something in a few years.
5 Wheatback Pennies: perhaps I should do more than just add them to the wheatback pile
2 Bicentennial Quarters: yes, I have a few of these as well
2 Canadian Pennies: what's the exchange rate?
1 British Penny: That's like 1.5 US cents! woohoo!
That's the Way I Roll...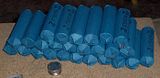 This morning I walked to the bank and I carried a very heavy bag with me. Originally, I thought it would be best to get a money order for the EFF and then I remembered this thing call The Internet that would make it easy for me to donate money; so I deposited the money in the bank and, upon returning home, I donated an equal amount of money to the EFF.
Boy were my calculations off.
Total amount of nickels: $52.30
Next stop: Pennies for the Free Software Foundation
Now quit reading, and help those that help you.