2012-01-07
A Gift for New Years
The subject of my coffee on 2011-12-31 was a note from my sweetheart lamenting the lack of New Year's Eve kisses we would be sharing. Fortunately, she included a chili pepper with the note so that I could have a hot New Year. Challenge Accepted.
12AM January 1st
New Year's Eve was celebrated at my buddy Joe's place with his family and a bunch of close friends. As the moment approached, I read the note to everyone present; and at the proper time, the chili was chomped and eaten. I think it was a serrano and it set my mouth ablaze.
When eating chilis, make sure your friends are there to share the laughs.
6PM January 1st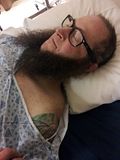 16 hours into 2012, I went to the hospital due to a broken collar bone. Bummer. Wow, look at that swelling... and the terrible haircut that I gave myself.
Eventually the bone will heal, and my hair will grow out. In the mean time, there is code to hack and chilis to chomp.
Happy New Year
Tags:
2019
2016
2015
2014
2013
2012
2011
2010
2009
2008