2010-03-26
It all started on the morning of Saturday the 13 of March with the following being posted to a social networking website:
Saturday Morning in 3 easy steps...
step 1: get scissors and a mirror
step 2: cut the hair on your head that can be seen in the mirror
step 3: enjoy the new mullet
In a fit of coffee fueled inspiration, I became a first time mullet wearer, and due to an abundance of procrastination, I have yet to remove the mullet. Believe me when I tell you that a mullet does not look good on me. To be honest, it is more of a mulletino-junior, but it should keep the sun off of my neck.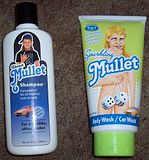 Normally, the story would end there ( or whenever I feel inspired enough to
cut the mullet
), but no; this story continues! It has been said that a person with friends is truly rich, and let me tell you, if that is the case then I'm a damn billionaire!
A few days after posting my mullet comment, a friend sent me a package containing
Vibrant Mullet Shampoo
and
Sparkling Mullet Body Wash/Car Wash
. AWESOME POSSUM! Obviously, I really need to test these things out.
Vibrant Mullet Shampoo
(with New Muscle Car Scent)
After letting my mullet ferment for a few days, it was time to wash, so in the shower I go. Although I'm experienced in the use of shampoo, I find it to be quite prudent to read the direction (
RTFM
) of a new product.
"DIRECTIONS: Apply Vibrant Mullet Shampoo generously to wet mullet and top-hair (if any). Work into a rich full lather and rinse. Repeat if necessary. Reinstall baseball cap and PAARTY!!!!" OK, I can handle that. After following the directions, I can honestly say that my mullet and sweet sideburns are clean, soft, and smelling like my old '68 Barracuda.
Sparkling Mullet
Body Wash/Car Wash
I decided to forego reading the directions for this product and just wash myself with it. Wow! They weren't lying when they described the product as having a "zesty spruce scent". Actually, I don't really know what the hell spruce smells like, but I'll assume that that is how I now smell. Booyah!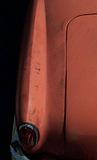 Obviously I would be doing an injustice and disservice to Sparkling Mullet and my readers if I didn't test the product on Gertie (my car).
Fortunately, Gertie had some engine work done last week and this resulted in some greasy crud on the rear fender. Is Sparking Mullet up to the challenge?
Wowwie wowzers! You should click the image and see the fullsize image.
Not only did Sparkling Mullet clean the crud, it left the fender spruce fresh, shiny, and silky smooth; just like my skin! Thank you Sparkling Mullet.
It should be noted that Sparkling Mullet does come with a warning that should not be taken lightly.
"Warning: After washing your body AND your car you may be too hot for some chicks. Partayyy!"
Well there you have. True to the marketing hype, Sparkling Mullet Body Wash/Car Wash will indeed clean both body and car, and will leave things zesty spruce fresh.
Now stop reading, and let your friends know how awesome they are!