2010-11-06
Cast Iron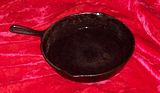 As you may recall from some previous blog comments, Billy said that he would bring me a 10 inch cast iron skillet. True to form, he delivered a sweet skillet within a few days.
Let me tell you, dear reader, what a joy it is to cook with this heavy beast: even heat distribution, easy clean up. Shazaam! /me is quite happy.
Keep it cozy!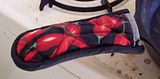 The iron handle of the cast iron skillet gets damn hot when cooking. Fortunately for me, Billy also delivered this epic chili themed skillet handle cozy. Thanks buddy!
Now quit reading, and um.... help me take a linux tablet off of my wish list? Hey, it was worth a shot, rock on! ;)
Tags:
2019
2016
2015
2014
2013
2012
2011
2010
2009
2008