2011-10-19
Cue the Dramatic Music
It was Lancaster PA, October something something 2011 and in a stunning turn of events that rocked my world to it's very foundation.... I didn't make the cut. Obviously I need quite a bit more training.
Pffftttt stop being so dramatic; let me spin you a yarn: In mid-August, I suffered some fairly debilitating muscle spasms that rendered my right arm mostly useless. By the end of September (6 weeks later), the pain had subsided to the point where I was finally able to drive a car.
Now, at about 8 weeks later, I can look in the mirror and see a noticeable lack of muscle mass in my right shoulder and arm. Apparently the muscles had atrophied from lack of use. Time to bring those muscles back!
The 3 Point Plan to be Hella Sick Rippin
Oh yea!!!!!!
To put my plan into action, I needed to cut up some ugly old shorts so that I could sort of make cubes of fabric. Once I had my basic pattern, I sewed that crap up into little bags and filled the bags with the filling from some diving weights.
The final product: three soft fabric bags that weight one pound each and are ugly eye-sores.
Put the Plan to Work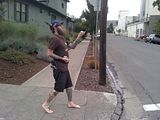 Since I have already typed the word "plan" a few times, you should now have the theme to the A-Team playing in your head. if you don't have the theme playing in your head, something is wrong with you.
The Training
Put on a sweet wizard cap (any hat with a feather in it: feathers make everything magical)
Take off your shoes
juggle while walking around Petaluma
How is this a 3 point plan? I'm glad you asked.
juggling improves my hand eye coordination
juggling 3 one pound bags for 10 minutes is quite a nice workout for my shoulder
walking around barefoot will toughen up my feet (Lancaster gave me blisters)
How exactly is this training for a Beard and Mustache championship? Hey! Just because it isn't related in any way, shape, or form, doesn't mean wuggling (walking and juggling) isn't an important aspect of training for a facial hair contest.... and most importantly, it is fun.
Now quit reading and go do something completely unrelated to anything you should be preparing for.