2012-03-23
Quitter
Talk about a quitter! The rear view mirror in my car is a quitter. No matter what angle I put the mirror, within a few milliseconds the mirror will quit and slump. The problem is caused by two things:
The ball and socket joint is over 50 years old and is just too loose
One of the car's previous owners stuck a new mirror on top of the old mirror and the added weight causes the slippage in the joint
Time to finally fix that crap
Mirror Mirror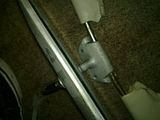 Oh looky looky; a mirror connected to a mirror with some padded foam adhesive.
A few strokes between the mirrors with a utility knife and I had cut enough of the adhesive to separate the two mirrors.
I Don't See Anything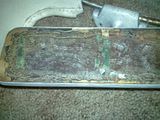 Holy Crap-a-lam-a-ding-dong! This is the original mirror. Most of the silvering on the back of the mirror glass has fallen away.
Fortunately, the mirror that was glued to the original mirror is the same size as the old mirror. Time for a swap.
Hey, it's the Ball Socket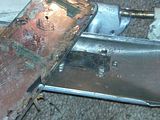 The metal frame holding the mirror is a rather soft metal, and with a bit of gentle prying, I was able to remove the old mirror.
Underneath the old mirror, is a metal plate that puts tension on the ball socket.
Two things were done to increase the friction/tension on the ball and socket joint. First, a small bit of spirit gum was applied to the ball and socket joint to make it slightly more sticky. Afterwards, I had the pleasure of smacking the metal tension plate with hammer to make it snug.
Once the ball and socket joint was nice and tight, I put the newer mirror in the mirror frame and then began tapping the soft metal frame, with the rubber handle of my hammer, to bend the metal frame around the mirror so that the mirror won't fall out.
Installed
Shazaam! The mirror is installed and working like a champ.
As you can see, there is no nighttime flippy dippy thing on my mirror and I expect to be blinded when I drive at night. Damn, that was the only advantage of the quitter mirror. Oh well, I'll figure something out.