2010-11-26
While researching some old cider recipes, I kept seeing references to the use of meat in the fermentation process and I thought it would be in everyone's best interest if I made a small test batch of cider with some bacon in it.
The Ingredients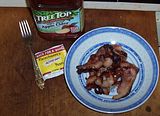 1/2 gallon of Tree Top apple juice
1 sachet of Fleishmann's yeast
2 pieces of bacon
The juice is cheap and, most importantly, it is pasteurized and contains no preservatives. This makes it ideal for fermentation. Similarly, the yeast is also cheap and can be purchased in most grocery stores. Although it has poor flocculation, this yeast will ferment to 9 or 10%, which is ideal for my purposes. The bacon was cooked in my cast iron skillet and while you may see more than two strips in the picture, I only used two pieces. ( the remainder was eaten while I put all of the ingredients together)
A tale of two jugs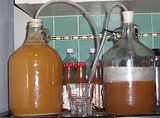 Now for the hard part; the actual fermentation. Haha just kidding. All three of the ingredients were dumped into a jug that was then sealed with a burping system that will allow carbon dioxide, a by-product of the fermentation process, to escape while at the same time keeping out bacteria that will spoil the sauce.
The jug on the right is the bacon batch. The jug on the left contains a full gallon of plain cider.
A few weeks later and ...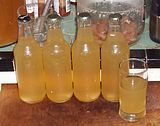 The final yield was four twelve ounce bottles of bacon apple cider and a little taster for the brewer. These bottles have been primed with dextrose to add some carbonation) and they should be ready to drink in a few weeks.
Based on previous measurements the final product will be about 6.5%ABV, and the sips from the tester where very dry, tart, and with quite the bacon flavor.
Balance
Let me tell you about balance.
Light | Dark
Bitter | Sweet
Good | Evil
Apple | Bacon
When creating a tasty beverage it is important to remember to balance the ingredients. In this regard, I believe that I have failed to properly balance the smokey bacon against the desired apple tartness due to adding too much bacon.
What is that you say "if bacon is good, then adding more bacon is better"? Well that's the most asinine crap I've ever heard. If one can only taste a single ingredients, why bother adding the other ingredients? I'm going to say, that for future reference, it would be best to use one or two strips of bacon per gallon of cider.
Now quit reading, and go make some magic sauce!