2011-07-13
Being Sad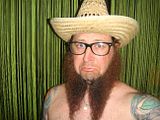 It has been quite a while since I have reviewed anything and was becoming quite sad. Fortunately for me, due to a conversation on the Linux Outlaws forum, some custom crafted clay mugs, made by Brian, were sent to me for testing...
Sad Jezra is sad.
The Loot
These are the two mugs that I received a day before July 7. Both are very symmetric, solid in feel, and quite beautiful to look at. Within the mugs' packaging was a note apologizing for the discrepancy of the volume of the mugs. Well, I know what I'll be testing first.
The Volume Seems Fine to Me
Here is the larger of the mugs with an empty 16oz bottle of homebrewed pumpkin ginger ale. The mug itself is filled with the ginger ale.
Mmmm, that's good pumpkin ginger ale!
Pumpkin Ginger Ale
** Ingredients **
12oz ginger
small sugar pumpkin
4 lb sugar
4 gallons of water
crappy yeast
** Prepare **
put water in a big pot and apply heat
chop up the ginger and put it in the pot
bake the pumpkin and then put it in the pot
dissolve the sugar in the water
bring the water to a boil, then cover and remove from the heat
when the liquid has cooled, strain out the solids and add the yeast and liquid in a carboy.
ferment as usual
The Little Mug
For the little mug, I performed a very intricate test involving some ice and Mac-G (Clan MacGregor scotch). The mug passed the test admirably, however, the Mac-G still tasted like Mac-G
Note: If you don't like my choice of scotch, that is fine. However, if you choose to be vocal in your dislike and you don't offer any alternatives, and by "offer" I mean "you are buying me some scotch", then you can shut the hell up.
My Part of the Bargain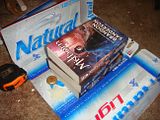 As I said in the original forum thread, if he sent me something, I would send Brian something to read, so I sent the Brandon Sanderson's Mistborn trilogy. To keep the books company on their trip, I included a few glow in the dark stars and a Yeungling bottle cap fridge magnet crafted by yours truly.
Ready to Send
Fold up that Natty Light box, wrap the corners with various adhesive tapes, and the new package is ready for shipping.
At the Petaluma Mail Depot, I was thoroughly chastised for my less than stellar packaging job. Pffftttt what do they know?
STOKED
What a wonderful test. So long sad days! I feel much better now.
Now quit reading and go make something, or send something to someone.... or both