2011-09-26
A few days ago on Google+, some friends posted pictures of the chili sauce they made. Not wanted to be left out of the awesome-sauce party, I asked for the recipe.
Although the directions for the chili sauce are in German, there are plenty of pictures on the page, and my web browser is configured to translate non-english webpages for me. Awesome!
Gather the ingredients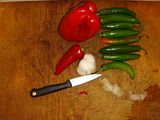 Since I didn't want my sauce to be very red in color, I used a mix of red and green chilis and diverted from the recipe slightly.
1 Red bell pepper
8 Green serrano chilis
4 cloves of garlic ( most things need more garlic )
a bit of ginger
1 lil red bastard of a chili that my buddy grew ( it is the hottest of the bunch)
125 ml garlic red wine vinegar
1 cup of dextrose (priming sugar is the only sugar I have at home)
500 ml water
lost in translation
Step 3 is brutal.
German: Auch die Knoblauchzehen und die Chilis in grobe Stücke schneiden. Danach nicht vergessen, die Augen zu reiben und in der Nase zu bohren. Nur so kommt man zu der Vorfreude auf die spätere Schärfe der Sauce!!
English: Also, the garlic cloves and chillies cut into chunks. Then do not forget to rub your eyes and picking your nose. Only one comes to the anticipation of the later sharpness of the sauce!
Not wanting to veer to far from the original recipe, after I chopped the chilis and garlic, I immediately started to rub my eyes. Although the pain made me forget to pick my nose, I did manage to take what could arguably be the least becoming picture of Yours Truly ever taken.
the finished product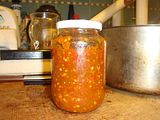 After blending and reducing my mixture, I had almost enough chili sauce to fill my 16oz jar.
The Taste
The various ingredients certainly give this sauce a distinct and excellent flavor. It starts with the sweet, which fades to a garlic/ginger flavor, and ends with the lingering heat of the hot chilis.
For future chili sauces, I plan to skip the sugar and use a variety of fruits and sweet vegetables, as well as different types of chilis.
Now quit reading, and go skip step 3.