2010-08-26
The day started great; sleeping in until 8:20 AM, brewing the perfect pot of coffee, catching up on a web project for a friend (who was less than impressed that a very chipper Jezra was calling her to discuss the project at 9:30).
Oops: no oatmeal, I guess sustenance will have to be delayed.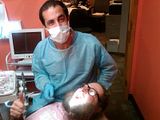 At 10:30, I pedaled across town to give someone a lot of money to make my face hurt.
Phase 1 of my dental implant is complete. Let me tell you about the procedure from my view.....
A topical anesthetic was applied to the area where the implant needed to go. An injection of anesthetic was injected high on my gum, followed by an injection to the roof of my mouth. Being well numbed, it was time to get to work. Well, it was time for the doctor to get to work; all I had to do was try to relax.
Since I couldn't actually see what was going on, I can only relate what I could gather from my other senses. Have you ever halved a piece of rubber by continuously cutting a deeper and deeper groove? The sound of my gum being sliced to the bone was similar. It was very scrape-tacular and there was an accompanying taste of salty blood. Once my skull was exposed, it was time for the drill.
The drill used to create the hole for the implant was much louder and lower pitch than the typical dentist drill. I was also quite surprised by how much my head shook as the drill did it's job. One X-Ray and a bit of drilling later, it was time to put in the implant (which went flawlessly). It was just a "shove" and the implant was ... well... implanted. Three quick stitches, that appeared to be double granny-knotted, closed me up and the procedure was finished.
In total, I probably spent 30 minutes in the dentist's chair and then I was out the door and pedaling home. Now it only hurts when I smile.
Note to anyone getting a dental implant: go to your favorite restaurant before you have the procedure. Right now, I can only eat mushy cold food. Bummer.
Now quit reading, and become part of the Borg collective.