2011-01-28
Last Fall, I reviewed four different styles of coffee cups and decided that the diner style was the most likely to survive a fall off of a desk or counter. Now that I have one of these sweet cups as my very own, it is about time to test my theory.
Note: The opinion and research described here is my own and in no way represents the opinion of my employer. However, should any viewers choose to replicate my finding by purchasing a NaNoWriMo diner mug (or two), I'm fairly certain that my employer would be quite happy. So go buy one now.
32 ½ inches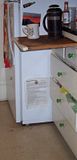 My counter, where I prepare coffee for the morn, is 32 and ½ inches from the floor. If I were to accidentally drop a coffee cup anywhere in my home, it would be from this counter.
So as not to harm any real coffee, a pot was brewed using previously used grounds. This faux coffee was poured into the cup and the cup was slowly pushed to the edge of the counter until the cup and it's contents tumbled to the linoleum.
Check out that sweet postcard on my fridge. The postcard was custom made by my friend in Switzerland; you are jealous.
The Aftermath
There are a few things one should take note of:
The coffee cup was unharmed
my kitchen floor sure is dirty
7 fluid ounces of faux coffee can make a large mess
it's a good thing I kept my mop at the ready
Well there you have it, the diner cup can easily survive a tumble off of my counter onto the kitchen floor. Whoa, hold on a second there tiger! Don't coffee cups do more than just fall off of the counter? Why yes, yes they do.
The Next Test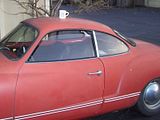 Remember that time you left your coffee cup on the roof of your car, and the cup came smashing down as when you pulled out of your parking spot to go to work? It's never happened to me, but it could happen so I decided to test the cup this way.
Just a Little Dribble
After backing up and slamming on the brakes nothing happened; the cup wouldn't budge. After two more attempts I had the same result: the cup didn't move, but a bit of "coffee" spilled out.
The base of the cup was quite grippy and wouldn't slide at all, so I did what any sane person would do to their favorite coffee cup... I got out of the car, and pushed the cup off of the roof.
Aftermath Part Deux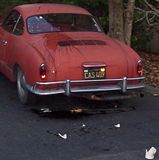 Oh crap, there goes my favorite coffee cup.
Apparently, pushing a coffee cup off of the top of a car and letting it bounce over a 40 horsepower engine, will cause the cup to break when it finally stops on the hard unforgiving macadam.
Broken? I Think Not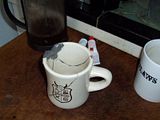 Broken cup? What broken cup? With my wide selection of adhesives to choose from, "broken" things rarely remain broken for very long.
A bit of jb-weld later and the cup was (mostly) as good as new!
Conclusion
There were a few things I learned while testing this cup:
the cup has a nice grippy base
I love this style of cup
pushing a cup off of the top of a car and onto a very hard parking lot may in fact cause the cup to no longer be one piece, and will requires the use of an adhesive to make the cup whole again.
my coffee tastes a bit off
Everything breaks. Now quit reading and find an object's breaking point. (or send me something to break) haha!