2010-10-09
On the Road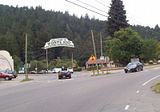 36 twisting miles north by north-west of Petaluma is the little town of Monte Rio [wikipedia] home to Bohemian Grove, a good friend, and big gnome in someone's front yard.
After an hour on the motorcycle, I was welcomed to Monte Rio. Seriously, the "Welcome to Monte Rio" sign hangs over the big intersection.
Favorite Places
Nestled on a river, surrounded by pine covered hills, Monte Rio reminds me of some of the favorite places that I've lived.
In the morning, most of the hills were covered with coastal fog and if I had brought my bagpipes, I would have played "The Mist Covered Mountains of Home" (after my morning coffee of course). Fortunately, there was a banjo where I was staying so I frailed "Ye Banks and Braes" instead.
Gnome-ore
It's gone, outy, no more, the gnome has left the building.
Apparently, during the week before my visit, the owner of the giant gnome sold it. Who the hell sells a giant gnome?
Instead of walking to the gnome for a sweet photo op, I walked to Fern's Grocery store and purchased a post-card, which I promptly sent to someone who should have received a sticker instead. Sorry buddy.
Now quit reading, and go find something to send to someone.