2009-04-27
Hot diggity! It had been a while since I got to spend some time in my buddy's shop and I forgot to take my digital camera with me last time. Luckily, a few hours of wood-craft took place on Sunday and I managed to get a few shots of the banjo progress.
There is a certain level of "how the crap am I going to do that?" when I get to each step of making pieces of the banjer. Sometimes, the problem is solved with a bit of woodshop instruction from my buddy and the use of a jig that he has made. Other times, well, there is probably a tool to do what I need, but it isn't in the woodshop.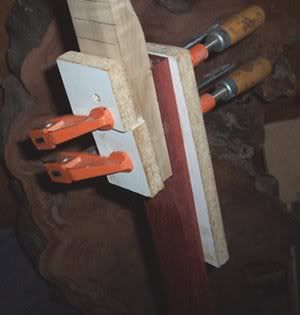 A 2" by 12" by 1" piece of bloodwood was glued to the base of the neck. The bloodwood piece will pass through the pot and hold the pot in place, as well as being an anchor for the saddle and strap. It is going to take a lot of rasping to round the heel of the potrod.
The pegs are also made of bloodwood, and they are semi-typical friction pegs. Friction pegs need to have a slight taper in order to work properly. The basic shape of the peg was hand cut with a coping saw and a small tail was left on the top. The tail of the peg was rounded with a rasp and placed in a drill press. As the peg spun in the drill, a block of wood, with a 1 degree cut on one face, was covered with sandpaper and used to create the taper of the peg. For some reason, the 1 degree cut in the block was done by my friend and it is the only part of the banjo creation that I didn't do myself.
After a bit more time with the coping saw, rasp, and custom taper maker, I now had a total of 4 pegs, enough for the head. Damn that rasp! I was just too tired to create the 5th tuning peg so I relaxed in my buddy's backyard and looked for ducks.
Next up: making the 5th tuning peg, tapering the peg holes on the neck, shaping the neck and potrod, making a nut and bridge and string saddle, attaching the pot to the potrod, learning to play the banjo.