2011-09-22
While copying large files across computers on my network, I became rather frustrated with the amount of time it was taking. So I did a bit of research on ways to speed up my wireless network and performed a not quite scientific experiment to measure the fruits of my labor.
The Nerdoleum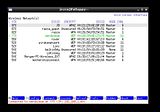 In case you were wondering, my network is the Nerdoleum. It's kind of like a mausoleum, but more nerdy and less dead.
Oh damn look at that! 77% is a crying shame. I'm getting a better signal from my neighbor's network. How is that even possible? Copying my 491 Megabyte test file in this state took 6 minutes 15 seconds
Surely I can do something to change the situation
What can't cheap beer fix?
drink two cans of cheap beer
use some crappy right-handed scissors to cut off the bottom of the can
slice open the can and pretend to bend into some sort of parabola
throw those cans over the wireless routers antennas to direct wasted signal energy in an appropriate direction
?
be thirsty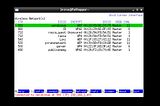 Oh hay! That seems to be a bit better.
Copying the file across the network again took 5 minutes 29 seconds. That's about a 12% increase in speed. WOOHOO! It's not much, but it's not too shabby for two cans of beer and one minute of work.
Now quite reading, and go drink a cheap beer.