2011-02-23
All Out of Coffee
Fortunately for me, I've been purchasing my coffee by the pound at Petaluma Coffee and Tea, and I filled my coffee card with enough stamps to get a free pound. Shazaam! Time to hop on the bike and take a ride downtown.
Oh It's a Bit on the Cold Side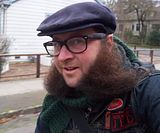 As I learned a long time ago, it isn't "too cold" outside, you just don't have enough layers on. Sweatshirt, jacket, scarf and cap seem to be all that I need in Petaluma.
This sweet self portrait was taken while riding my bike.
The Destination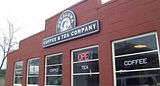 A fairly plain red building is at the end of my rainbow, and it is only about 1.5 miles from my home. Inside this unassuming building is where I get my favorite blend: Blues Breaker, and trust me, it certainly does keep the blues away.
A Peek Inside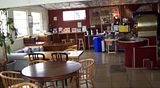 Tables and chairs, a couch. Sit down, get comfy, and sip your coffee (or tea).
That red and gold contraption on the right is a coffee roaster and it is quite common to see the roast master working his bean magic with the device. On the left is a coffee plant that somehow manages to grow indoors in Petaluma. I tried to get a few beans from the tree to sprout but it would appear that my thumb isn't green enough.
A Cup of Love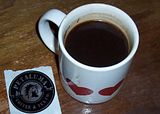 Having returned home with my fresh pound of coffee, I quickly brewed up a batch and sipped from a non-broken cup. While at the coffee shop, I asked "could I please have a sticker for my bicycle?" In hindsight, I should have asked for two stickers; one for my bike and one for my laptop.
I don't work for Petaluma Coffee and Tea, nor do I own any part of the business, I simply enjoy their coffee and appreciate what they add to the quality of life in the town in which I live.