2010-06-21
The wires in some telephones is extremely thin and it is nearly impossible for me to get a decent long lasting connection. Case in point, the Red Phone. After a brief conversation over Skype with a fellow hacker and Linux Outlaw, the connections on the phone started falling apart. Bummer: I was researching non-proprietary forms of VOIP communication and I really needed a microphone and speaker.
To the hardware store for supplies!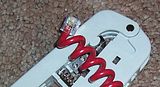 After purchasing a phone plug crimping tool, some phone plugs, and a modular jack. It was time to get cracking. The wires were stripped and phone plug was crimped on.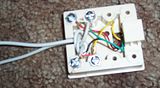 Woops! I should have paid attention to which wires connected to what. Oh well; a few seconds of testing later, I was wiring the speaker and microphone jacks to modular phone jack.
Hiyah! It's all put together and ready for some yammering! Wow, look at the wear on that touchpad. Damn freedom hating Toshiba.
With the connections being quite solid, it was time to test the device. On a 900 Mhz laptop with no battery and 128 Megs of RAM I installed a Mumble Server. From their website: "Mumble is an open source, low-latency, high quality voice chat software primarily intended for use while gaming." On a separate laptop, with the red phone connected, I installed the Mumble Client.
After a bit of trouble shooting and configuring, I had my client machine connected to the server and I managed to sucker talk another Linux Outlaw into helping me test the machine. Using the information I provided the test helper connected to the Mumble server and Shazaam! I was talking to someone, over the internet, who was about 3500 miles (5600K) away, with no noticeable latency and quite decent quality.
Success!
Now I need to test the system with someone much farther away to see what sort of latency issues will arise, and I also need to test with a group of people to see at what point bandwidth becomes an issue.
Now quit reading, and go talk to someone.