2009-07-25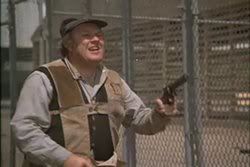 Oh man, how many times have you been in this situation?
There is a madman with a gun trying to kill you, and he keeps yelling "you're not carnival personnel" because, why trying to flee from the madman, you ran past a sign that clearly states "Carnival Personnel Only".
Damn, I hate when that happens.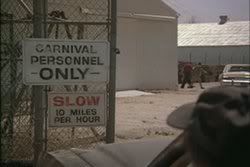 What's with that sign? Don't they know that there is a madman after me? Perhaps running by that sign makes me a jerk, but I'll be damned if I'm going to stand around waiting for a madman to kill me. If only there was some way to alleviate the guilt associated with clearly violating the "carnival personnel only" rule.

A Ha I have the solution.....
For starters, I'm going to need a black t-shirt, some iron-on letters, an iron, and some sweet left-handed scissors. Some of the letters are missing because, for a toddler's birthday, I made a special birthday present tank-top that says "bullshit" on it.

Let's get crackin, shall we?
start by cutting out the letters needed for the shirt.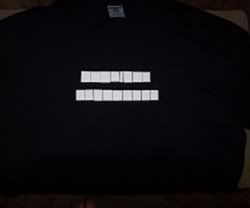 Carefully align the letters on the t-shirt. Since the letter on the paper are mirror images of what will show up on the shirt, special care is needed to make sure that the letters get placed right. This looks pretty good, so plug in the iron and move along to the next step.

( actually, this isn't that good, I'll explain later)
Make sure that the iron is dry. We don't want any steam to mess up our letters. With the iron set to "wool", press on the iron-ons for about 15 seconds. If you press too long, or use too high of a heat, you might burn the letters a bit; which is exactly what I did on the "bullshit" tank top.

Flip the tshirt over and iron the other side of the letters for about 5 seconds.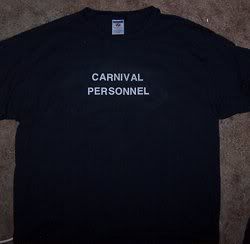 Hot Diggity! Problem solved.
Now, when the madman starts yelling "you're not carnival personnel", one can simply point to their shirt and say "Well actually, Yes I am".

The alignment issue: When I think of all of the issues that I've encountered while utilizing typography in a graphic, it amazes me that I didn't think about the kerning of the letters. The "V" and "A" in Carnival should be a lot closer together.

The best part: This isn't for me. This t-shirt is a gift for a friend. Hey buddy, when you read this give me a call, I have a gift for you.
Keep making stuff, and rock on.