2011-07-02
For the last few days, I've been gathering resources for making a prototype of a shishi odoshi(a type of fountain) out of PVC tubing.
The story goes something like this: A few years back I sprouted a fig tree from a clipping of fig tree root, and when the new fig tree was about a foot tall, I gave it to my mother. Fast forward to the present and mom is complaining about deer eating the fig tree. She wants a "deer chaser" fountain to scare the deer away.
Mom: I need a fountain
Jezra: can't you just shoot the deer? mmm venison
Mom: NO! I just need a fountain to scare them away
Jezra: Fine, I'll see what I can do
Start with some cardboard
The silver bullet
A few tubes of rolled beer box gave me a basic idea of the sizes of tubing I would need for the prototype.
Cut some PVC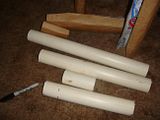 I started with a 4' x 1.5" PVC pipe that I measured once and cut into the pieces that I needed.
18" spout brace
11" opposing brace
4" arm stop
11" arm yea, I made up all of those name
Making the Arm
The arm was cut at the 4" mark and the remainder of the arm was covered with gorilla tape. A coupler was added to bind the two arm pieces back together. Combined with the tape, this configuration emulates the partitioning that is found in bamboo
Almost ready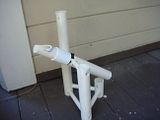 Boring holes in PVC is a pain.
Brace stays were cut form .5" PVC. (that's a measurement of the inside diameter) Check out that sweet arm.... it looks just like bamboo!
It's alive!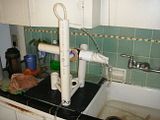 A piece of .5" PVC was use as the spout on the spout brace. Some leftover tubing from the homebrew setup was connected to a little sump pump that moves about a gallon of water a minute.
This is the test in my kitchen.
Now I need to find some bamboo and make the real thing. In hind sight, I probably could have just made this thing out of bamboo from the get-go. Oh well, I suppose I paint it to look like bamboo.
OK, that's enough, go make stuff.