2011-11-22
Less Stuff, More Fun
It started with a brief conversation with my buddy regarding my desire to de-clutter my abode. You see, some might say I'm a bit of a hoarder; to which I typically reply "I'm not a hoarder, I'm a pack-rat who happens to be a slob". Yea, that's how it started.
Anyway, I decided that it would be really good to do a few of the following things:
get rid of some stuff
clean up a bit
make a place for stuff that doesn't have a place
put stuff where it belongs
In this regard, I felt it would be a really good thing if my musical instruments could be put in a place that would keep them out of the way, but still make it really easy to pick up an instrument for playing.
One Man's Trash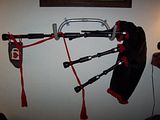 Me: I really need to make a wall mount for my bagpipes
Buddy: you can use the drop bars I ran over with a lawn mower
Me: shit yea!
Buddy: reduce, reuse, recycle
(events may not have been exactly as described)
...and after today's coffee, armed with a few brackets and screws that were lying about, I soon had a nice wall mounted bagpipe holder. aaaaaalright!
Next up, a banjo holder.
Now quit reading, and go put stuff out of the way.