2009-07-28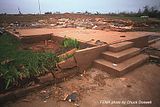 Have you ever seen what a tornado can do to a building?
It isn't pretty. Look at the image and ask yourself why you only see the foundation of a house? I'll tell you why, because an F5 tornado came through and removed the house and all of the contents of the house. By removed, I mean the tornado ripped the house to shreds and dumped the pieces of house about the countryside. Since you are online right now you might want to see images of tornado damage.
Carry on my wayward son
In the heart of the USA is an area that gets hit by so many tornadoes that the area is called Tornado Alley. In the middle of tornado alley is the State of Kansas, and within Kansas, the Department of Homeland Security wants to build a research facility for the study of highly infectious pathogens . ( according to the Washington Post )
Honestly, it doesn't take a rocket scientist to realize that studying pathogens that are lethal to humans, animals, and crops should not be done right smack in the middle of the North American agricultural heartland; especially if the area is prone to having buildings literally ripped from their foundations by 200 mile per hour winds. One unfortunate tornado, and we could be looking at a staggering loss of life as well as a sizable destruction of North America's food source.
Security? Homeland?
I fail to see how putting a ticking time-bomb of destruction in the middle of the US will in any way increase the security of the entire nation? Who the hell honestly thought that this crap was a good idea? Research facilities like this (Plum Island, Gruinard Island) are sequestered from the mainland for a very good reason.

<sarcasm>
Hey! I live in an earthquake prone area, perhaps the DHS should set up a research facility on top of the San Andreas fault line.
</sarcasm>