2010-09-24
The Introduction
While hopping onto the BART not too long ago, the first person I saw happened to be Richard Stallman, so I introduced myself and sat down next to him for a bit of yammering. By this time, I had already hatched the plan to donate my nickels to the EFF and Richard seemed like quite an amicable fellow, so I decided to donate my pennies to the FSF.
Getting a Move on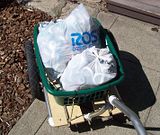 Since I'm too lazy to roll all of the pennies, I decided to use the Coinstar at a local grocery store. The pennies were heavy, and since I was already on my way to the store, I should probably haul some empty cans along and get my CRV back. The pennies and cans where put in the trailer and off I rode.
5.6 Lbs of aluminum later, I had an extra $8.68 in my pocket. Unfortunately, someone came in the day before and sorted $1400 worth of coins in the Coinstar machine and the machine was no longer accepting coins. Bummer.
Alternate Route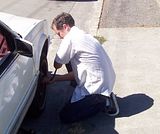 Dejected, I wrote to my buddy's place. Hey look! It's my buddy taking off his tire in order to find out what the hell is wrong with his brakes. After riding to a few autoparts stores and finally to a hardware store, we had found the $1.50 bolt that he needed. 90 degree weather is no time to be working on a car outside.
To "test" the fix, we drove to another store with a Coinstar machine and I started dumping change into the machine while my buddy went searching for some Primo brews. 8 minutes later, the pennies were finished being counted: 4156. After Coinstar took it's cut of the funds, I was left with $37.67 and we then headed back to my buddy's place to enjoy a cold beer on a hot day.
Wrap it Up
When I finally made it back home, I hopped on that interweb thingy and donated $37.67 to the FSF. Thank You FSF!
Yesterday was the Equinox so a hot sauce update is in order. So far this year, have consumed 196oz of Tapatío and 18oz of Crystal. Shazaam!