2009-11-14
All Sales Are Final
While checking out the goods at a local thrift store, I found a VHS copy of Ghostbusters for a dollar. How could I resist? A few minutes later, I was at home being very non-plussed, due to the ribbon in the VHS being torn.

Thank you 80s
When my favorite audio cassettes broke, it was a simple matter of taking the cassette apart, fixing what was wrong, and putting the cassette back together. Is a VHS tape any different?
Not really.

I'll just take the VHS tape apart and fix it!

No, no I won't. Damn you RCA!
The RCA manufactured VHS cassette is held together with a bunch of screws and one rivet.

The smart thing to do is use a drill to remove the rivet.

I opted for prying the cassette apart and breaking it beyond repair.

Fortunately, about a year and a half ago my brother gave me an unopened package of 9 VHS cassettes, that I was never really planning to use.

Good thing I kept those things around. Thanks again Jason!

Here is a blank cassette openned up and ready to be a surrogate for the soon to be fixed ribbon.

The red tab that holds the ribbon to the cassette wheel needs to be removed so that I can attach the end of the ribbon from the other cassette wheel.

There is a small hole on the cassette wheel that will allow me to push the tab out.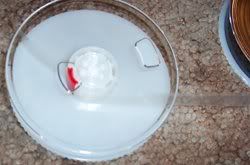 Alright! The ribbon has been attached to the cassette wheel.

I just need to trim off the excess ribbon and align the wheels and ribbon in the VHS housing.

After re-assembling the cassette, a bit of packaging tape was used to affix the original movie labels to the surrogate.

check out those sweet left-handed scissors.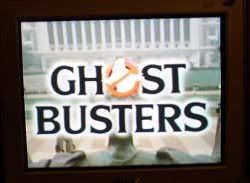 YES! It works!

Many Shuvs and Zuuls knew what it was to be roasted in the depths of the Slor that day, I can tell you!

Now stop reading, and prepare for the coming of Gozer the Gozarian!