2011-10-15
On Friday the 7th of October, I traveled to Lancaster Pennsylvania to compete in 2011 National Beard and Mustache Championships. Having spent a decade and a half in Eastern Pennsylvania, there were a few important things that I wanted to do during my visit.
Drink a Yuengling
Eat a soft pretzel
Eat some scrapple
Eat a cruller (yea, I failed on this one. boohoo)
Family Time
Fortunately for me, my mother was in town visiting and she gave me a ride to the airport. Since one should never fly on an empty stomach, before leaving I had a wonderful breakfast with my mother and sister at Q.
My buddy Ben cures and smokes his own bacon. and let me tell you, he has set the bacon bar rather high. Damn that is some good stuff. Why am I telling you this? Because Ben's bacon has pretty much ruined all other bacon for me. However, the bacon at Q was almost as good, and that is saying a lot. Thanks Q.
Crap at the Airport
What can I say, I'm a sucker for old technology and I was quite happy to see the exhibit of really old televisions in the San Francisco airport.
Yuengling
This is the first picture that I took after landing in Pennsylvania. After checking into my hotel, I walked to the bar next door and was greeted with a laughing "of course" when I asked if they had Yuengling in a bottle. mmmm delicious.
When I returned to California, I ordered a Yuengling Clone kit for homebrewing, so hopefully in about a month and a half, I'll have about 5 gallons of almost Yuengling to enjoy.
The Sung (AKA the Competition)
The competition was a rather fun affair (at least for me). It was a nice chance to meet a lot a great people with great stashes, beards, goatees, sideburns, and bits in-between. Results are available at the Beard Team USA website.
The Unsung
There are three things that made this "Meeting of the Beardos" so wonderful.
The Competitors
The Event Staff
The Fans
As I was sweating in the shade, I realized that Jack Passion ( the event announcer) was wearing a dark suit in the sun for hour after hour. Damn, props to you buddy.
If there is one thing I learned about my fellow follicle friends, it is that getting them to organize for anything is like herding cats; and the event staff did a wonderful job of getting people where they needed to be, when they needed to be there.
Obviously those deaf judges didn't hear the fans yelling "10" (my number) when my group was on stage and that is OK, because I heard them. At the time, I thanked the fans with hugs, handshakes, and high-fives; and I'd like to do it again. Thank you, thank you all.
Scrapple
On the second night of post competition celebration, it was decided by many to sample the fine cuisine of a local greasy spoon, and as fate would have it, scrapple was indeed on the menu. Lamentably, when I tried to take a picture of my scrapple, I discovered that my trusty coffee camera was missing and I became rather sad. Not because the camera was gone, but because the pictures that were on the camera were lost to me.
With the camera gone, there were a few things that I didn't get a picture of
The Yuengling Brewery (I sort of drove an hour and a half in the wrong direction before I bought a map and sorted things out)
my old hometown
my old house
The End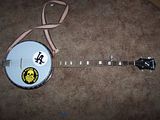 The biggest downside of the trip was not getting to see my brother and new sister-in-law, whose wedding I had to miss to due an injury. As far as the competition is concerned, my only gripe is that there wasn't a separation of sideburns and goatees into distinct categories. Oh well, maybe next time. Speaking of next time.... It looks like I'll be in Austin, TX in February for their Beard and Mustache Competition.
I'd like to thank the Boston Crew, Austin Facial Hair Club, Northern Los Angeles Beard and Mustache Club, and Beard Team Canada for being the best bunch of people I could have hoped to meet on such a trip. I'll see you in Vegas.
Finally, I would like to apologize to Joe Blossom for my being a bit too deaf and inebriated to hold a proper conversation and failure to welcome you properly to the United States.