2009-12-05
In the Northern Hemisphere where I live, it is now wintertime and due to limited daylight, I am riding more and more at "night". While I don't really mind the cold, I really really do not like when drivers on the road cut me off or pull out in front of me.

Perhaps they don't see me very well. I had better remedy that situation.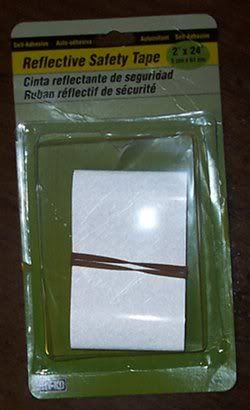 For a few bucks at the local hardware store, I purchased a 2" x 24" strip of reflective tape. In order to make a little bit go a long way, the the tape was cut into 8 strips at &frac14" x 24".

Various lengths of the cut strips were then applied to various parts of my bicycle.

This is the before shot of my bicycle after dark. The camera flash does a decent enough job of lighting up the bike for the human eye, but I want a bit more pizazz.

Why is this such a bad picture? Fog. Taking flash pictures in fog tends to light up the water droplets in the air.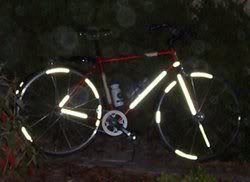 Now that is what I'm talking about!

Randomly placed strips on the bicycle rims will hopefully add a lot of visual noise when the bike is in motion.

Be seen.
Tags:
2019
2016
2015
2014
2013
2012
2011
2010
2009
2008