2011-05-30
The Boxes of Loot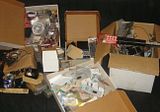 A friend said that he had a few boxes of electronic components that he needed to pass on to someone interested in that sort of thing. A few hours later, I was unpacking and sorting components. Let me tell you, I will probably never need to buy another resistor, capacitor, or voltage regulator ever again. There were quite a few timers, potentiometers, switches, and op-amps as well.
The story goes something like this: A tinkerer passed away and instead of just throwing out all of his collected bits and pieces, they were passed on to someone who will continue to tinker and create. I never met the man who previously owned these things, but I know him.
Code
Hidden within the boxes was a Sinclair ZX81 complete with a 16 Megabyte RAM cartridge and programming manual. A spool of punched tape that looks like part of a really old computer program.
He was a hacker.
Fix and Adjust
No, it's not a pack of matches, it is a small portable sewing kit with a nice selection of thread, needles, and a spare button.
He liked having his record player adjusted properly. Damn, I wish I knew what records he put on that player.
Burn and Break
Perhaps he smoked; maybe he just used a zippo lighter for shrink wrapping wires. Either way, this last flint will be going into my grandfather's zippo lighter and will be used to shrink wrap wires.
When I found the wooden mallet, my heart was filled with joy. At some point in the creation process, it is necessary to destroy something (or smash something into place).
Other Tools
Aside from the mallet, there were few other tools within the boxes. However, there was a nice Chatillon brand scale that I will be using to measure priming sugar for my homebrew, and there was also a bottle opener (which I just used to open a bottle of homebrew).
Like I said, I never met the man, but I know him, and I certainly hope that when my time is up and my main loop exits, someone picks up my knick-knacks and builds some neat shit.
Now quite reading, and go make something ( or smash something with a mallet ).