2010-04-07
oh.... errrr..... can't ... breathe ... need ... air.
I swear, every year my kilt shrinks just a smidgeon. Some naysayers may think that it is
me
getting girthier and not kilt shrinking that leads to the kilt not fitting anymore. Well, damn you naysayers! This is my blog and I can blame the kilt if I want to. Now get off my lawn!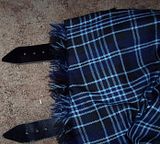 It seems to me, that the kilt straps are just too damn short. Look at those sad little rinky dink straps.
My first thought was that I should cut open the kilt, replace the straps with longer straps and then sew everything back together. What a terrible idea! That would require semi-decent sewing skills and a lot of time. I certainly don't have that sort of kilt alteration skill.
Why not just bolt on some extensions?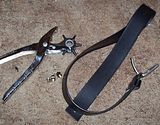 $2 dollars, spent at a local thrift store, got me a leather belt that is just a tad bit wider than the straps on the kilt. Mix this with a leather punch and a few Chicago bolts that my buddy gave me (thanks buddy), and I was ready to start "fixing" the kilt.
For my kilt, I need three straps that are a few inches longer than the current straps.
Now I just need to cut the straps to my desired shape, punch a few holes in them, and bolt them to the current straps.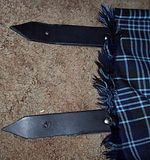 Well looky looky!
Cut,bolted in place, and working like a charm! Since the Chicago bolts are chromeplated just like the strap buckles, everything looks quite nice and the fit is absolutely perfect.
New kilt: $450
Adjusting kilt: $2 and some Chicago bolts
Looking good at my friends wedding: priceless, and by priceless, I mean $452
Feeling smug like
Garak
the Cardasian tailor on Deep Space Nine: priceless
now quit reading, and go alter some garments before the Dominion invades!