2011-05-25
The Travel
According to Google Maps, it is 33 miles from my home in Petaluma to the MeeGo Conference in San Francisco. However, according to the odometer on my motorcycle it is more like 42 miles, and this morning I hopped on that iron steed and rode through 40 miles of downpour to attend day 3 of the MeeGo Conference. If you haven't experienced getting hit in the face with rain drops at 70 MPH, I suggest trying it some time.
Being Social
By the time I reached the conference, I was soaked through and in need of a hot cup of coffee. Fortunately, the event had plenty of coffee on hand (more on that later). After getting a fresh cup-a-joe, I spotted @nuclearsandwich with a celebratory towel and had a brief chat with him before I excused myself to shed my soaking wet leathers in the "Hacker's Lounge" and made plans to meet him there later.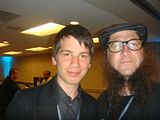 So who does a soaking wet, leather clad, coffee toting Jezra meet upon enter the Lounge? A certain Mr. Thomas Perl, who, along with some fellow conference attendees, had just won a contest for the best picture of the event on flickr. While Thomas was trying to collect his loot, I tagged along to get a refill of coffee. In the process, I collect a much needed Qt towel and some minor second degree burns on my middle finger.
Yes, the blisters were worth it
There was no coffee available in the Hacker's Lounge. Beer, water, and soda were readily available, but not coffee. To get coffee, I had to go down the hall, up a flight of stairs, and across the exhibition hall. After filling up, my cup would be half empty by the time I walked back to the Lounge. Since I didn't want to hike around all day trying to get some coffee, I decided to fill up three cups of coffee that I could take back to the Hacker's Lounge. So there I was, the sipper in the left hand, and two backups in the right hand, and let me tell you, those two cups put out a lot of heat and since I'm not about to drop two cups of coffee, I got burned. Note to Self: next time bring a thermos ... and a burn kit
More Social
Speaking of burning, check out Cornelius' arm. When walking around San Francisco all day, be sure to put on sun screen. Cornelius was part of the crew that won the best picture contest and they finally got their loot which, among other things, contained beer from Petaluma and cheese from Petaluma. Coincidence? I think not
After quite a bit of back and forth on the ping pong table with Steven (nuclearsandwich) and a bit of compiling pyside, it was time to watch Thomas' presentation on developing apps with python, pyside, and qml. It was very cool, quite powerful, and I doubt I will ever use it for MeeGo development because the python Qt bindings are not shipped by default in MeeGo and all of the developer push seems to be towards the C++ language; which I have no interest in learning.
Learning Stuff
It isn't really possible for me to meet people and not learn something new. Here are a few of the highlights:
@nuclearsandwich played water polo and puts too much power into his ping pong swing
If I was out partying in Dresden at 3AM, I'd still be able to get on public transportation
when dubbing movies into German, it is common to use the same voice actor for a specific screen actor. That way, Bruce Willis will always have the same "voice" in the dubbed movies.
Even when the Nokia people correct me, I still refer to Qt as "que-tee" and not "cute"
In the future, when I go to a multi-day conference in San Francisco, I will probably get a room at the venue so I don't have to commute home at night and thus miss out on the fun evening events.
Until next time, something something, something something