2011-05-23
In the beginning of 2010, I was fortunate enough to be able to review a rather crappy beer and in a recent bout of self loathing, I happened to find the perfect way to punish myself by going one step further.
Yes it gets worse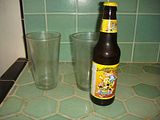 So what kind of beer is worse than Ed Hardy beer? Why, Ed Hardy light of course! While looking for cheap beer at my local Grocery Outlet, I was amazed to find this foul liquid for just over 60 cents.
Not the best in show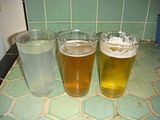 From left to right:
a glass of water with lemon
Ed Hardy Light
The Silver Bullet: Coors Light
After sipping each of these beverages in turn, I poured out the Ed Hardy when the pints were half full. The Ed Hardy Light was a bit on the sour side and I just couldn't stomach it for long. What really surprised me was that the bottle was not a twist off. Really? Is anyone fooled by that?
Fortunately, I eventually moved beyond the self hatred and, having imbibed what I may consider the worst swill I've ever encountered, I will never go near that crap again.
Now quit reading and go drink something decent.
Tags:
2019
2016
2015
2014
2013
2012
2011
2010
2009
2008