2011-07-21
Lucky Socks
[play the A-Team theme] Whenever I hear the word "plan", the theme to the A-Team start playing in my head, and my buddy said the plan is to visit the Pacific Pinball Museum. For this adventure, I felt that a nice pair of jack-o-lantern socks would help me get through the day.
One hour and $15 later, 5 buddies and I rolled into Alameda all set to flip out. Oh man, that was punny.
Old Stuff
This is one of the machines that was so old/rare that no one was allowed to play or touch it. There were about 6-8 machines that were in this age category.
Still Not New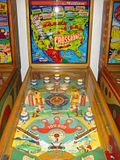 If I recall correctly, this machine was built in 1952 and was the oldest machine that I played. The machines from the 50s and 60s are very mellow and slow. They could be sped up by adjusting the leg lengths, but that would lead to the games needing to be serviced more often.
Clear Machine
This machine from the early 70s has most, if not all, of the printing removed form the paneling and it gives quite an interesting view of the internals of a pinball machine. Pretty sweet.
Tommy?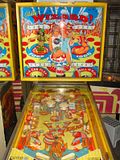 There were two machines in the museum that were based on a Tommy theme. The Wizard was one of them. When I make a pinball machine, I'm going to base the machines theme on pinball. Damn, that would be so meta.
Elton John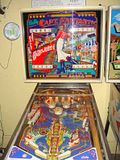 Yup, it's Captain Fantastic himself in all of his electromechanical glory. Hey! Just above his right foot, what the hell is going on?
Dirty?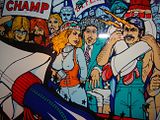 Oh the 70s: disco, turtlenecks, a stoked dude with an afro, and lightning bolts flying out of someones eyes. That's what I call "the good old days".
As far as I can tell, the mission was a complete success. I love it when a plan comes together!