2010-11-15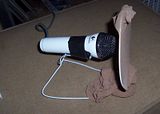 Today, when I got home from work, I went to my recording studio (AKA my living room with a $12 microphone) and recorded a clawhammer rendition of Sudo Modprobe: the Linux Outlaws theme.
For a while now I've been plinking the melody on the banjo and I really wanted to add in some banjo distinctness to the tune. Although the tune should probably be slower, it is hard to not speed it up when playing on the banjo.
Now quit reading, and give a listen to Sudo Modprobe on the banjo
And don't forget Sudo Modprobe on the great highland bagpipes
haha!
Tags:
2019
2016
2015
2014
2013
2012
2011
2010
2009
2008