2010-05-19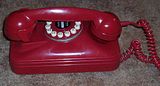 Wow look at that! It appears to be a fully working cheap plastic faux rotary wall-mount phone that someone gave me as a gift!

Wait, faux rotary? What's the point? I know; I'll fix the phone!
Here is the same phone again in exploded view, and by "exploded", I mean I took it apart looking for usable components for other projects. The ringer might be useful, and there is a switch that can probably be used for something.

In reality, I just want the receiver.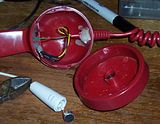 Because the phone is so new, the speaker and microphone have very little power requirements and can easily be used with a computer. I thought there was a problem with the mic, so I broke the phone open and replaced the mic with a cheap computer mic.

why everything was glued together in a phone that was designed to be taken apart is beyond me.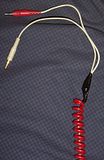 After a little solder/hot glue/electrical tape magic, I had the receiver wired up for standard microphone and headphone jacks. It may not be pretty, but it is pretty functional and that's what counts.
Hey, not bad.

Now all I need to do is plug this thing into my computer and I can start making internet phone calls to um... uh.... someone on the internet?
Now quit reading, and take a perfectly good "something" and repurpose it.