2010-10-21
Hot Diggity!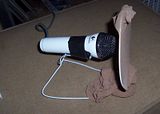 On Friday the 15th of October, I taped my $12 microphone to a piece of bent coathanger with nylon stretched over it and then sat down in my recording studio (my living room), and was interviewed by Dan and Fab of the Linux Outlaws. In preparation for the interview, I pedaled to the Lagunitas brewery and picked up a 6 pack of Pils so that I would have something to sip on while flapping my gums. Thanks Lagunitas!
We talked about beer, software development, squirrels, and various other things. I must say, the hour and 45 minutes seemed to fly by and there are plenty of things we didn't cover and I would certainly like to be on their show again.
To keep things balanced, for my next LinuxOutlaws guest appearance I will be contacting Dempsey's for some fine Petaluma beer.
Now quite reading, and go listen to Linux Outlaws episode 170
booyah
Tags:
2019
2016
2015
2014
2013
2012
2011
2010
2009
2008