2010-05-07
If I've learned anything from spending a month focusing on writing a 100 page movie script, it is that time is precious and it should be spent doing things that one loves. That being said, I *don't* like cleaning my apartment; if I have the time to clean, then I have time to do something fun or at least something more interesting than pushing a vacuum cleaner.

Well eventually it was time to clean, and during the cleaning quite a bit of loose change was found. To keep the change in one place, I put it all into the cylinder that previously housed the scotch that my buddy gave me for helping him with his photography projects. Do you notice how there is no link to his photography blog? That's because he doesn't have one.

When I put change into the cylinder, I waste a lot of time taking the lid off, depositing the change, and then returning the lid. There must be an easier way......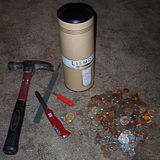 I had big dreams of using my rotary-tool to cut a nice slot in the lid of cylinder, but that wouldn't be a good use of time. A pocket knife, hammer, and some files should do the trick.

In case you were wondering, that is $44.12 in change.
First things first, hammer the knife blade through the lid. Kids, don't try this at home.

Click the image and look at the big picture. See that notch on the knife edge? My buddy Caleb did that while hotwiring my 68 Plymouth.
The newly created slot in the lid was widened and the edges were folded and hammered flat to reduce the exposure of sharp edges.

Can't touch this. do do de do Can't touch this. Stop. Hammertime!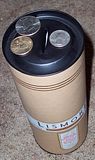 Done, done, and done.

The lid was put back on the cylinder and the project was finished.

For perspective, I have included a ¢50 piece, a dollar coin, and a quarter.
Now what the hell am I going to do with the change that I collect? Actually, I have
somewhat
of an idea, but I'll save that for a future post.
Now quit reading, and go spend your time wisely unless you *want* to spend your time reading, which I find to be a very worthwhile endeavor.