2011-01-20
The sticker adventure
About six months ago, I wrote about three stickers that I had made and sent to various people around the globe. I recently came across two pictures of the sticker that was sent to my buddy Dirt Kirt (who happens to be partaking in a bicycle ride of epic proportions) and I thought I would share.
Front and Center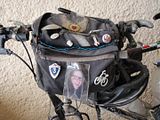 On the front of his handle bars is a bag, on the front of the bag is the sticker, dry and safe in a protective covering.
Does this mean I'm leading the way?
I'm a Tourist!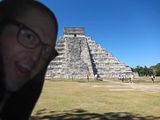 Check me out, this is me in front of some Mayan ruins in south-east Mexico and I assure you, there is no digital image manipulation tom-foolery going on here. This is the real deal
What's next?
I don't know where I'm going next, but I'm fairly certain that it will be Central and South America. As soon as I get new pictures of where I've been, I'll be sure to share.
Keep the wheels spinning.
Tags:
2019
2016
2015
2014
2013
2012
2011
2010
2009
2008