2011-11-11
I Never Trust the Asterisk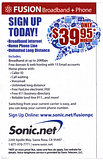 In my mail recently was a flyer from a local internet service provider. The first thing that caught my eye on the flyer was the asterisk next to the price. $39.95*, and I assumed that after 6 months, the price would go up. Then I actually read what the asterisk represented: *NOT an intro price!
Wait...what? seriously? Yea, go read that again.
Who is that honest when dealing with customers? Sonic.net, that's who.
In order to quell my disbelief, I called sonic.net customer service to ask a few questions. Mostly, I wanted to know if the service would require me to still pay AT&T a monthly bill. As soon as the service rep said "no", I was sold.
Previously, I was paying $35 a month for slow internet access with terrible support and I needed to pay another $20 for the required phone line through AT&T. Now that it is possible to not pay any money to AT&T for phone service, I switched over right away.
So?
Now, for about $15 less than I was paying before, I have internet access that is 10X faster, and I don't have to give any money to those law breaking AT&t bastards, and my money is staying in the local economy. Booyah!
If I need tech support, I pick up my phone and dial 611 and I talk to someone 20 miles away from me. Now that is what I call a local company. My only complaint is that I didn't switch sooner.
Note: I do not work for or represent sonic.net in any way. Simply put, I am a very satisfied customer. If you live in the North Bay, you owe it to yourself and your community to switch to a Sonic.net, and if you live elsewhere, you should switch to a local provider.