2010-07-25
A bit of Computer Repair
My good buddy Constance has a rather old computer. Actually, it is an original ibook with a speedy 300Mhz processor and a whopping 192M of RAM.
OK, the RAM has obviously been updated, but other than that, the computer is still original.
One day, Constance told me a tale of tripping over her computer cord and then the adapter started sparking. Crap! The machine may be crap, but it is all she has and it has all of her writings on it.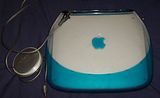 Ah, the slow as dirt machine. See that "yo-yo" power adapter? Aside from always burning out, those things are $80 from Apple. I'll be damned if I let Apple get any of my poor writer friend's money. Let's fix that shit!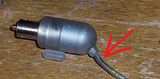 First thing first: find out where the cord is fried. Well, I'll be damned, it just happens to be fried where every other "yo-yo" adapter gets fried.
(That's me being sarcastic)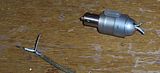 It went like this:
1. cut off part of the plastic housing
2. cut and strip wires
3. determine that the amount of exposed wire is to too short for my pathetic soldering skills
4. cut off all of the plastic housing
5. discard the metal housing under the plastic housing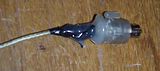 Hit it with some magic!
After soldering the wires, I used hot glue to re-attach part of the plastic housing and then I wrapped the wires with electrical tape. Just to be save, I slather on a crapload of hot glue to keep everything together.
Solder, electrical tape, and hot glue. Shazaam! That's three adhesives in one project!
When the repair was completed, I put the machine in bag and pedaled over to Constance's house, where I was greeted ecstatically. It should be noted however, that there was a serious lack of cookies/coffee/beer/scotch waiting for me when I got there. cough cough, cough cough cough, hint hint.
Now quit reading, and go repair a crappy 11 year old laptop.
P.S. If anyone has an old laptop gathering dust, and the laptop isn't as crappy as Constance's current piece of shit, let me know. (Constance really needs an upgrade)