2010-10-24
After the not quite so epic success with my letter to Google, I thought it would be best if I wrote a letter to another company and request that they send me some stuff.
With pen in hand, I set to work crafting the following, which a few weeks ago I sent to Dell.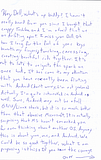 Hey Dell, what's up buddy? I haven't
really head from you since I bought that
crappy Toshiba and I'm afraid that we
are drifting apart.  I miss you Dell. Oh 
how I long for the feel of your keys 
beneath my fingers; touching, caressing, 
creating beautiful cod together. It's 
not to late to reignite the spark we 
once had. It has come to my attention 
that you have recently been flirting 
with Android (don't worry, I'm not jealous). 
Actually I'm quite interested in Android as 
well. Sure, Android may not be a full 
GNU/Linux stack, but it is so much better 
than that abusive Microsoft. It is actually 
surprising that MS hasn't smacked you 
for even thinking about another OS. Anyway 
this is about you, me and Android. We 
could be so good together. What I am 
proposing is this: If you have the courage 
                          Over -------->

to send me one of your Android devices, 
I will review the unit, write some come for 
the device, and take it with me 
where ever I may roam. Eventually, you 
will want to resume custody of the 
Android device, and when you make the 
request for the device, I will promptly 
return the unit with no questions asked. 
Please Dell, please come back to me. There 
will always be a place for you in my heart.  

Fond thought and well wishes,  
Jezra  

P.S. please offer more products without 
Microsoft. Not everyone likes to give money
to that jerk  

Since the note seemed kind of lovey dovey, I thought it would be best to S.W.A.K the letter. That's "Sealed With A Kiss" in case you didn't know. So after sealing the envelope, I kissed it and wrote "S.W.A.K." on the seal.
For some unknown reason, I received no response from Dell. Obviously Dell and Google are in cahoots and are conspiring against me. Damn you Dell and Google! Oh well, perhaps I'll have better luck next time.
Now quit reading, and go write something.
In hind sight, I should have requested some pens.